Looking for Self Storage Near Jefferson City or Dandridge, Tennessee?
Are you stacked up?  In transition?  Looking for Self Storage Unit?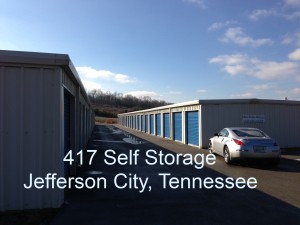 Just need more space?  We can help.
If you are looking for a self storage location that is easy to access and ready to store your stuff, then 417 Self Storage is the place to go.
Our self-storage facility located at Exit 417 on Interstate 40 on the way to Jefferson City is conveniently located to Jefferson City, Dandridge, White Pine and every where in between.  Whether you are needing Residential Storage:  for Furniture, Household Goods, Cleaning out your Garage, Seasonal Decorations including Christmas Decorations, Furniture, Bicycles, Records, Equipment, Yard Tools.
Call Us Today – 865-375-5523
What about Business Needs: Restaurant Equipment, Over-stocked Inventory, Machines, Office Equipment, Shelves or just about any other business storage need.
No long term commitment is required.   Use your self-storage unit for one month or one year (or longer).
Our gated facilities contain three sizes of units sure to meet your needs.
Small:  10′ x 10′  – 

Medium 10′ x 20′ – 

Large 10′ x 30

'
Which size will serve your needs?
We also have space available for your boat, travel trailer or motor home.
Call today at 865-375-5523
Keep in mind these tips as you get ready to fill you storage unit.
1.  Mark the boxes.  Always be sure to mark the outside of the box (on multiple sides) with words that will identify the contents.  It never fails that you need to come back to the storage unit to find just one thing, then you have to go through a number of boxes to "find" it.  Marking your boxes will save you time and headaches.
2.  Use boxes.  Don't plan on using garbage bags to store your stuff.  Just don't.  It's not garbage, don't treat it like garbage.  Stop at a local uhaul ™ store they'll have boxes that are likely pretty cheap.
3.  Stick to it.  Yes, go ahead and get some tape made for mailing packages to tape up your boxes.  Regular scotch tape won't do the trick.  Sealing the box with mailing tape will help keep dust out.  You'll be glad you did.
4.  Size matters.  Yes, the size of the box matters.  Remember don't use the largest boxes because you'll end up carrying them.  Use large boxes for lighter, yet bulkier items like linens and blankets.  If you are packing dishes, pots and pans, you should use smaller boxes.