If you're about to move to another state you many need a self storage unit in your new location.
There are a number of things you'll need to do to help prepare you for the move, long before you ever leave your current home. This is especially true if you do not yet have a house or apartment in your new town. One of the major things to consider is what to do with all of your things when you arrive, as you'll need somewhere to store all of your personal property while looking for your new home.
If you are moving to Dandridge or Jefferson City, Tennessee you've made a great choice.  Living near the Great Smoky Mountains provides great opportunity and a pleasant climate.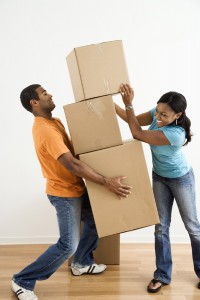 As moving and storage can both be quite expensive, the first step in relocation is to start sorting through all of your stuff to determine which things you absolutely must take with you and which things you might be able to leave behind. This one action could save you money on having to rent a bigger moving van and storage unit.
Once you have a good idea of exactly what you'll be taking with you on your move to another state, you can then start looking for a moving or relocation company to drive all of your things to your new city. Alternatively, you could also rent a moving van and drive it yourself, but either way, you'll need to find some place to store your stuff if you aren't immediately moving into a new home.
So, long before you ever make the move, you'll need to start looking for a self storage unit in the town you're moving to.   Our self storage units are located near Exit 417 on I-40 West, centrally located to both Dandridge and Jefferson City, Tennessee. This is again where sorting through all of your things is important. You're gonna have to know at least approximately how large of a storage unit you'll need for all of your furniture and other things. If you're moving somewhere with extreme heat or cold, you may also want to consider using a climate controlled self storage unit to help keep your items better protected from the elements.
By moving your stuff to your new town and keeping it in a self storage unit there, you will have a secure place to keep all of your things while searching for your new home. You never know how long the search will take, so it is quite important that you identify the place where you'll keep your things right after the move. This will save you a lot of time and stress when you finally arrive in your new city, as you can immediately take your things to the self storage unit.
When it comes to getting ready to move to another state, you will need to start preparing and planning long before it's time to make the move. By planning from the beginning with the end in mind, you can ensure you are fully prepared for the relocation, and that you have a high quality, large self storage unit to help keep all of your goods safe, secure and protected from the weather until you've found your new home and are finally ready to move in.
You may want to check out these other articles:
What size storage unit do I need?